Item Overview
PROFFICE – Business WordPress Theme, you can make your business or Corporate niches website turn into a masterpiece look. It will definitely live up to your expectation. PROFFICE is a responsive and multi-purpose WordPress Theme which has some feature that can make your website wonderful. So, Choose PROFFICE WordPress theme and find endless opportunities to increase your business.
In which sector it can help you in your business?
This professional, corporate, business website template can be a good fit for any kind of website. You can optimize it according to your needs. It could be portfolios, personal blog, and business, corporate or marketing campaign,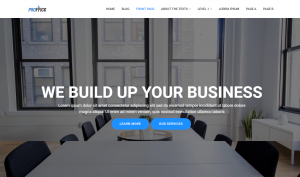 whatever you want. It will prove an asset which will turn your venture into a masterpiece.
Proffice – Key Features:
Design: PROFFICE has a very creative modern and material WordPress Theme. It provides very neat & clean and modern theme. It's very functional and has a convenient theme. The theme options panel allows you to customize easily.
Responsive: This bootstrap business template will give your audience a responsive and user-friendly even mobile responsive.
Well-commented code: This theme supports a full-featured well commented and flexible code which is very easy to understand plus very easy to modify.
Rich Theme Option: In Proffice theme you will get dedicated theme options panel powered by WordPress recommended Customizer API.
Cross Browser Optimization: This business website is tested to support multi-platforms. It works perfectly alright in all browsers like Safari, Google Chrome, Opera, Mozilla Firefox, , IE11, IE10, IE9, IE8, IE7, IE6, and Edge, plus in any version of those browsers. Isn't it grand?
Well documented: Proffice has a well-described documentation.
Speed-up Page loading time: To grab the attention of the customers, speed-up Page loading time could be a killer weapon. Trust me, this theme ensures that you get full support for this particular feature.
Best Customer Support: Our team is engaged, empathetic and skilled. They will enhance you 24*7 period free and best support if you face any trouble. They are very dedicated to their work.
Quickstart Installation: The installation procedure is very easy and quick. You just go WordPress theme and search for "PROFFICE" and click install, that's it. Now Enjoy!!