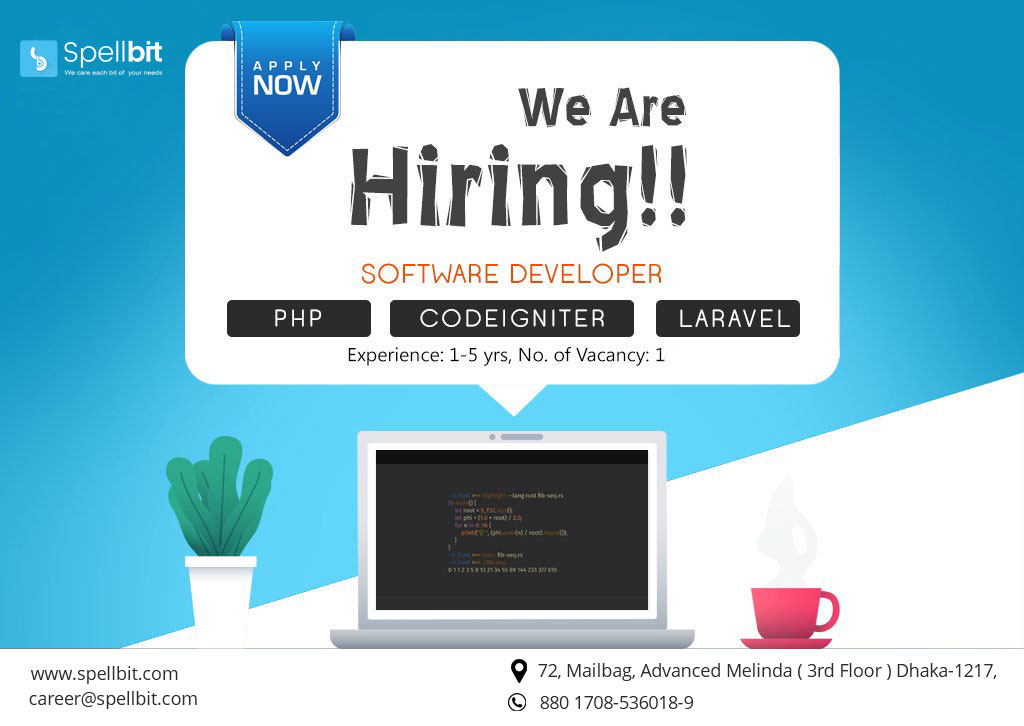 Jun 29, 2019
Vacancy: 1
Company: Spellbit Limited
Company Overview: Spellbit is a leading IT firm in Bangladesh. We work globally around 30+ countries and providing services to 1000+ customers. Spellbit limited emerged to keep you up to date with all the recent innovations in web development and e-commerce.
Job description / responsibilities:
-Write clean, maintainable and efficient code. Design robust, scalable and secure features.
-Contribute to all phases of the development life-cycle.
-Follow best practices (test-driven development, continuous integration, SCRUM, refactoring and code standards).
-Drive continuous adoption and integration of relevant new technologies into the design.
Skills and Qualifications:
-A minimum of 2 years of professional, full-time Laravel & Codeigniter experience.
-A proven track record of developing applications with Laravel.
-In-depth knowledge of WordPress, Node.js, AngularJS will get preference.
-Solid experience with modern unit testing practices.
-Having highly interactive applications published is a plus.
-A clear understanding of object-oriented analysis and design
Salary: Negotiable
Benefit:
1. Salary review in every Year.
2. Snacks.
3. Two festival bonus and many more.
Employee Status: Full Time, 6 days
Office hours: 9 am – 6 pm.
Apply: Send your updated CV to info@spellbit.com, with the subject line of "laravel or Codeigniter Developer"
Application Deadline: 06th July 2019
Company Information:
Spellbit Limited
Address: 72, Mailbagh, Advanced Melinda (3rd Floor), Dhaka-1217
Web: www.spellbit.com